Heads Up November Family Friendly Activities and Save the Date

Annual Fall Harvest Feast for School Families
Our Fall Harvest Feast is a great campus event to meet other parents on campus, eat tasty Thanksgiving food, and see your child's creative and musical talents through a classroom performance!  Event details and volunteer sign-ups will be posted soon on your parent information board. Stay tuned!
Secret Holiday Shop for Kids Begins November 16
We are entering our 24th year of our secret holiday shopping experience with Jolly Boutique.  It's a great experience for children to learn more about giving and receiving, shopping and budgeting.  Parents choose the recipients and how much to spend. Prices range from $1 to about $25. Purchases are bagged and labeled with names of recipients to keep the gifts as a secret surprise for recipients!  Staff help children shop. It's always been lots of fun for the kids and their gift recipients.  We will be  distributing shopping materials and information. You will find materials in your child's art/information file in early November. Stop by the front office if you have questions.
Community Events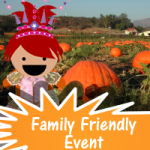 November 1st Carlsbad Annual Street Fair
Sunday, November 1 is Carlsbad's annual street fair which begins at 8 a.m. in downtown Carlsbad, this year it will host over 900 vendors. It's a grand event!
Saturday Story Time At Dove Library, Carlsbad
Every Saturday at 11:00 a.m. the Carlsbad Library has a children's story time and/or puppet theater in their children's section at their Dove Library Location.
October was filled with many fun learning activities and presentations on campus!
Learning with guests and friends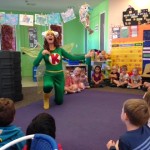 Super Dentist – Sparkly Clean Teeth Presentation
The Super Dentist visited our Butterfly, Ladybug, and Kindergarten classrooms to share with students about the importance of brushing their teeth regularly and eating growing foods to keep their teeth nice and healthy.
Students were entertained by the Super Dentist who brought puppets and sang throughout her engaging presentation!
Circle of Education – Dolfi Visits Campus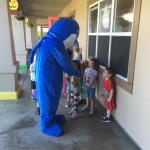 Dolfi, the dolphin from the Circle of Education curriculum, also visited our campus. It was  a special treat!
The Circle of Education curriculum is a social-emotional learning readiness program we use in each classroom to pair with our monthly activities and learning themes.
Explore our Learning with guests and friends gallery and articles
Learning out in the field trips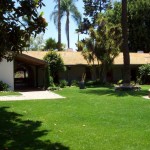 Field Trip to the Rancho Buena Vista Adobe
In addition to our presentations, our Pre-Kindergarten and Kindergarten classrooms visited the historic 170-year-old Rancho Buena Vista Adobe.  Kids learned about the Rancho and orchard, made crafts, and baked cookies in the kitchen.  A lot of fun fall activities!
Huge Thank You To Our Parent Volunteers!
Our amazing field trip and Halloween Pajama Party wouldn't have been a success without the generosity of our school families!  Thank you to all parents who volunteered to drive and chaperon students to the Rancho Buena Vista Adobe. As well, thank you to parent volunteers who contributed items and their time to our Halloween festivities. Your support truly creates memorable experiences for our students and staff. Thank you!