There are a lot of fun and exciting things happening in June at La Costa Preschool & Kindergarten.

Save the date June 15th at 3:30
It's time again for our kids favorite event, the all school show.
This years theme is "Under The Big Top"
The kids have been working hard rehearsing their acts!
There will be music, skits and lots of smiles and proud parent moments.
So remember to bring your cameras!
Light refreshments will be served.
We look forward to seeing you,
June 15th at 3:30,
for the best, most talented cast ever
Under The Big Top
Soon To Be Released!
Our kindergärtners FIRST book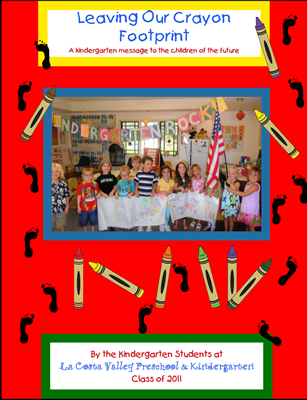 "Leaving Our Crayon Footprint…
a message to the kindergarten children of the future"
Our kids have been working hard creating their first class wide collaborative book.
We are really excited about this project!
The book building project helps our kindergarten kids to build the skill-sets that will help them not only in elementary school but ongoing throughout their educational careers. Illustrating the stories and picking the theme of the book also helps  them to find their voice and to be able to articulate their thoughts, feelings and ideas through words and art.
Stay Tuned for our big release!