Ms. Mary has joined us and will be working with our Butterfly classroom team as a supervising lead teacher. Ms. Mary will be working part time through July and then begin full time in August. Ms. Rita, Ms. Juanita and Ms. Kathy are  looking forward to collaborating and working with Ms. Mary.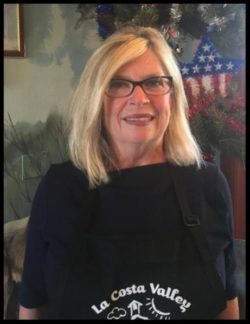 About Ms. Mary
Ms. Mary has been successfully working with young children for more than 19 years. The majority of that time as a supervising lead preschool teacher in the States of Colorado and California school districts; and private programs.  She earned her early childhood teacher certificates in Illinois and California. She has also completed many early childhood development workshops through the years.
She is very passionate about teaching and she says she takes her role very seriously in providing a nurturing and enriching environments for her students. Mary is  thrilled to join our school family and looks forward to working with the Butterfly team and getting to know her students and their families.
If you have any questions, please let us know.
La Costa Valley Preschool & Kindergarten Faculty 🙂