Learning About Community Helpers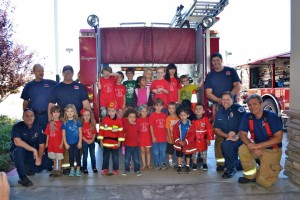 Students visited a nearby community fire station.
Students toured the station, learned about tools, equipment, special vehicles, special clothing and the many important duties of firefighters in our community.
The students at La Costa Valley Preschool and Kindergarten also learned about the importance of fire drills at school and at home plus practiced Stop, Drop and Roll safety drills designed to extinguish burning clothing.
La Costa Valley Preschool and Kindergarten would like to Thank the Carlsbad Fire Station No 5 for sharing with our kids the importance of fire safety and what our local hero's do on a daily basis. It was very generous and we appreciate the time that you took out of your day to help our kids learn and grow.  Who knows there may be a future "fireperson" or EMT amongst us.