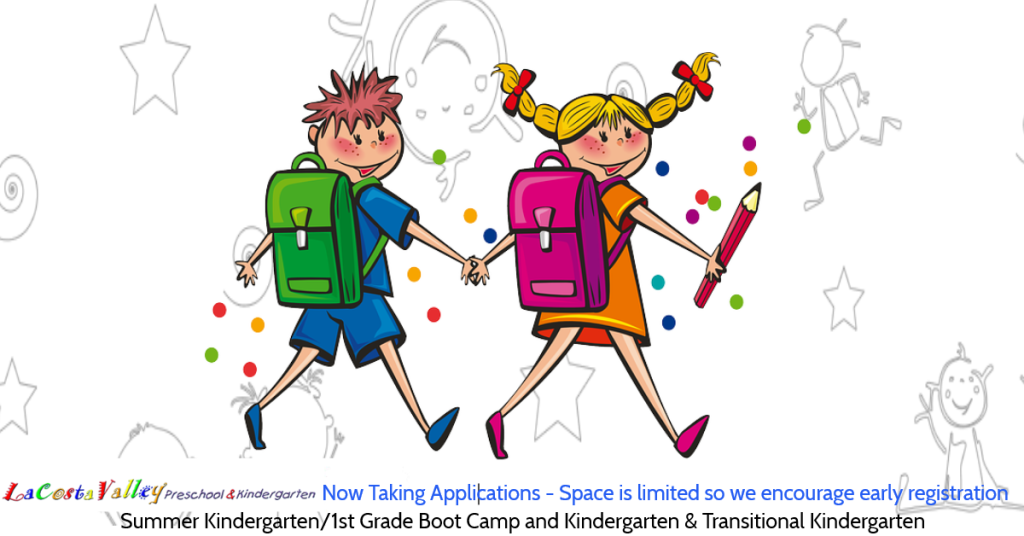 Our Summer Kindergarten Preparation and First Grade Boot Camps are designed to give our students a boost in their academic skills for successful entry into kindergarten or first grade programs each fall.
Students who complete our Summer Kindergarten Preparation Camp transition smoothly into our, California State Department of Education approved kindergarten program.
About Our Kindergarten and 1st Grade Boot Camp.
Early literacy based, we will be working on reinforcing letters sounds, and continuing phonics and reading skills .
Children will also write, illustrate, produce and read their own book within this program.
Skills in math, science, technology will be developed through class room activities, lessons and hands on experiences.
Creativity skills in music, fitness and learning adventures, field trips to reinforce curriculum and more will be enjoyed.
Summer academic camps are offered at La Costa Valley Preschool and Kindergarten in July and August.
Accepting 2016, Kindergarten & Transitional Kindergarten Academy Applications
Program Focus: Basic skills in letters, phonics, math, art, science, music and more. We believe learning should be fun and exciting for your child. We will engage your child in experience and learning activities that will prepare them to seamlessly transition into our fully accredited, academic kindergarten program.
We fill up fast, early registration is recommended.
Inquire about registering for our summer academic boot camp program and/or applying for our Kindergarten & Transitional Kindergarten Academy.
Our admissions director will contact you shortly. Thank you for choosing La Costa Valley Preschool and Kindergarten, A California Department of Education Private Elementary School, 1 of 3 Nationally accredited Preschools and Kindergarten's by the Academy of Early Childhood Programs.

Contact Us – Learn More About Our Summer Programs -Get On The Wait List For Upcoming Sessions

Contact Us- Program Information
Contact Us- Wait List Information