During October students will enjoy a rich curriculum of learning activities. Our themes, letters and numbers are posted in classrooms and included in parent orientation packets. We've also scheduled a dental health presentation by Flossie the Rabbit to help support the importance of dental health with our students. Good thing too, because we are planning a Pajamas and Pancakes (with lots of gooey and tasty toppings), and Pumpkin Hunt Party for Halloween.
Preschool & Pre-K  Student Evaluations Distributed Oct. 28. Regular Class Schedule.
Kindergarten
We will also be holding parent teacher conferences for our Kindergarten students on Monday, October 21.
There will be no class this day, however students may signup for an intersession day of fun and learning.
Preschool & Pre-Kindergarten
We will be distributing our Fall preschool and pre-kindergarten evaluations on Monday, October 28 for parent review. School will be open as usual.
Halloween Fun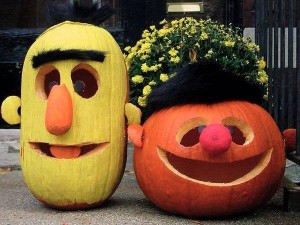 Pajama & Pancakes Pumpkin Hunt
Class parties 10/31.
No Costumes.
Without costumes and masks during the school day. On Halloween, we enjoy lots of fun. No costumes or costume accessories are permitted on campus.
Sign up sheets for the pancake parties are located outside classroom doors on the bulletin boards. We also ask each child to bring a mini pumpkin for the hunt.
Parents are invited to join the fun and help with the pancake parties and pumpkin hunts! If your child is not scheduled on Halloween, you may schedule an extra day if we have space available.  Please check with the office.
Students Are Invited To Try One Of Our Optional Enrichment Classes
Classes enjoyed enrichment classes and free trial classes from Dance To Evolve, Gym-On-Bus and All Star Sports. Optional enrichment classes are offered each week for a nominal fee. Information is available on the enrichment class board in the reception area.
Gym-On-Bus is on Monday & Fridays
Dance To Evolve  begins this month so pick up a sign up sheet in the office.