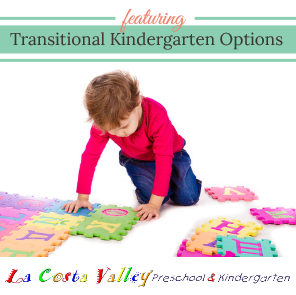 The specifics of kindergarten and transitional early entry kindergarten programs in California can be confusing because each California public school district and each individual private school may develop and implement  their own plans. California began phasing in Kindergarten eligibility requirements in 2012 to increase the age of students . In 2012 , children turning five years of age by December 2 were eligible for Kindergarten. This coming school year ( 2014 – 2015) children must be five years of age by September 1 for Kindergarten eligibility. This change was implemented based upon research indicating a slightly older child is better equipped to thrive in an academic environment and has a better grasp of social and emotional skills.
Some California public school districts and private schools offer optional transitional early entry Kindergarten programs for children.This coming school year, children not turning five by September 1 are eligible for Transitional Early Kindergarten. Usually children must be five no later than December 1, but this varies by school. The purpose of Transitional Early Entry Kindergarten is to provide students with an academic foundation and social skills necessary for success in Kindergarten. Transitional Kindergarten program attendance is particularly important for children not attending Pre-Kindergarten programs and those attending Pre-Kindergarten programs without early literacy and academic components in their curriculum.
Parents of four and five year old children are faced with important decisions in the coming months.
For children not yet ready for a comprehensive academic kindergarten program, look for a pre-kindergarten program with an engaging early literacy based curriculum to foster and enhance learning and social skills. For children ready for a more academic approach, a two-year transitional early entry kindergarten program is an excellent choice to facilitate the joy of learning.
There are some private schools that offer two-year programs that are also recognized by the State Department of Education as a private kindergarten elementary school. La Costa Valley Preschool & Kindergarten is one such school.
The school has successfully offered kindergarten and transitional early entry programs since 1991. Eligibility is based upon a student's demonstrated developmental and academic readiness skills necessary for classroom and personal success.Now is the time to begin exploring program options. If you begin the process now, you may find it is a good adventure and you won't feel pressed when making this important decision for your child's academic success.
Article by Cindy Cleary-Cesena, Executive Director at La Costa Valley Preschool & Kindergarten,Faculty Member of San Diego State University – Child and Family Development Department in the School of Education, and President of The San Diego Association For The Education of Young Children.
*reprint of County Sun Article