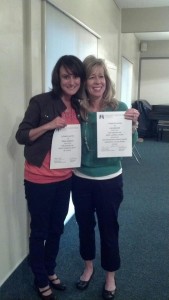 News:  San Diego Association For The Education Of  Young Children awards Ms. April of La Costa Valley Preschool and Kindergarten a SDAEYC Scholarship Grant.
Ms. April Andreola received an educational scholarship grant from the San Diego Association for the Education of Young Children on March 13,2012. Ms. April competed for the scholarship with candidates from throughout San Diego County. Ms. April was selected based upon her demonstrated dedication to early childhood education, successful teaching experience, interests and goals, community involvement, academic success, plus professional recommendations.
" My life has been dedicated to the enrichment of children placed in my care. I see no other fulfilling future than one of touching a child's life and creating memories that will last forever. Child development will always be the center of what I do, says Ms. April."
The intent of the scholarship San Diego Association for the Education of Young Children's scholarship grant is to encourage the highest quality of early childhood education for all young children. The objective of the scholarship is to support students and early childhood educators in advancing their education in the early childhood field.
Update: Press Coverage 4-3 North County Times: Carlsbad teacher wins special grant
La Costa Valley Preschool and Kindergarten
Preschool, early entry and transitional kindergarten education classes
for Carlsbad, Encinitas, La Costa, Solana Beach, Rancho Sante Fe and children of North County San Diego.