Note: Our Enrichment programs and Spring Break Camps for kids up to 6yrs olds registration is open to the community.  (meaning your child does not have to be an enrolled student at La Costa Valley Preschool & Kindergarten to attend)
Enrichment Class Comp U Kids, Computer Detectives and Computer Robotics is now enrolling:
This is a weekly class designed to introduce your child to basic computer skills and programs, computer and web use safety and how to find and explore topics that are interesting to them
ENROLLING FOR SPRING INTERSESSION KINDERGARTENER FUN CAMPS !
La Costa Valley Preschool and Kindergarten offers intersession fun camps for kindergarten students (through age 6) when their school is closed.
Enrolling now for April 2-13 , 2012 Spring school break camps.
Small groups enjoy science, technology, art, crafts, music, outdoor fun and more. Call, 760-436-2797 or
Fill in our
School Break Camps La Costa Valley Preschool and Kindergarten form
We will contact you shortly regarding your interest in enrolling your child in our fun and educational school break camp.
Heads UP and Plan Ahead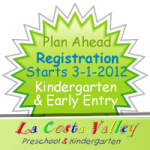 Starting March 1st
KINDERGARTEN AND TRANSITIONAL KINDERGARTEN REGISTRATION begins March 1st for La Costa Valley Preschool and Kindergarten for 2012-2013 school year.
Contact the nationally accredited school for more information and complete enrollment information. Call, 760-436-2797 or
Visit our Academic Kindergarten Preparation Program page for more info.
La Costa Preschool Valley & Kindergarten is 1 of 3 Nationally accredited Preschools and Kindergarten's by the Academy of Early Childhood Programs serving the coastal communities of Carlsbad, La Costa, Encinitas, Leucadia, Cardiff, Del Mar, San Marcos and Solana Beach in North County San Diego.