Classroom Activities & Curriculum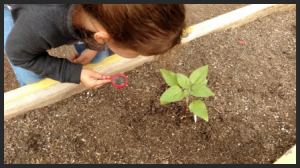 Your child's teacher has a variety of fun learning activities planned this month to piggyback on spring. Such activities will focus on botany, bugs, science, and healthy eating and "growing food" discussions utilizing the vegetables and herbs in our school garden. Please check your Parent Information Board to see other themes, letters, and numbers your child will learn this month.
Save The Date
April 17th – Flower Fields- a(field trip information was provided in a separate email). Students will learn about the planting and cultivation of flowers and more!
April 29th – Picture Day – Information about your child's scheduled picture day and portrait options will be provided in their art folder.
Family Friendly Fun Events In The Neighborhood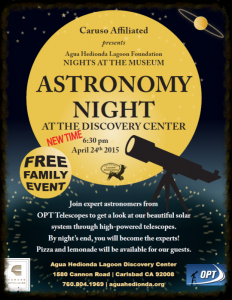 The Agua Hedionda Lagoon Discovery Center is hosting an Astronomy Night on their grounds on Friday, April 24th from 6:30pm-8:30pm.
Expert astronomers from OPT Telescopes will guide families about our solar system through high-powered telescopes!
Pizza and lemonade will also be provided.
For more information about this event including location details, please click on this link or call the Agua Hedionda Lagoon Discovery Center at 760-889-3028.
Support Our School Show
We're excited for our All School Show on June 12, which includes our Kindergarten graduation ceremony. This is a very big production and lots of fun for our student performers and their families and guests!
A silent auction is held before and after the production and we're seeking new donations.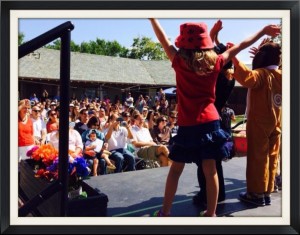 This is a great way for you to contribute to our school efforts, while also promoting a family-friendly company and service that you support.
Proceeds from the school auction help offset the show production costs and also contribute to our dream of building our own school stage.
If you can help, please stop by the front office or call for more details at 760-436-2797.
Thank you in advance for your generosity!