The sign HOLLYWOOD as just found perched high on a fence overlooking La Costa Valley Preschool and Kindergarten in La Costa.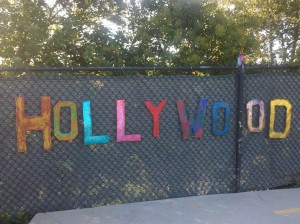 Upon closer inspection, a red carpet was in place along with what appears to be a walk of fame under construction. Through an anonymous source close to the action it was revealed that a star studded VIP group is enjoying a camp week filled with glitz, glamour, song, dance, costume design, drama and music culminating with a live rock band performance by members of the elite group. It was also leaked to a reliable source that the VIP Hollywood campers are crafting guitars for the performance and a few campers (ages 2-6) may still join in the fun.
It's Hollywood Summer Camp was fun for all and we truly believe all kids can be artists and share in the joy of performance art.
See our schedule of upcoming Summer Fun Camps for Kids
Call 760-436-2797 for more information about our summer specialty camps for kids
Be  sure to visit  and like  La Costa Valley Preschool & Kindergarten on FaceBook for a glimpse of school programs and fun.
We would also appreciate it if you would tick the  +1 button at the top of any of the article to help other google'rs find our fun summer camps for their kids too 🙂