Here at La Costa Valley Preschool and Kindergarten we feel expression through arts and crafts benefits your child's early education and helps to build skills such as critical thinking, imagination cognitive and creative skills. It is also shown that art experiences help to strengthen your child's problem-solving skills goal setting and task performance which will aid them in academic achievement and school success.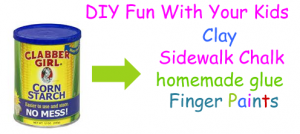 So, why not have the art supplies themselves be a part of the creative experience?
Skills learned: measurement, color theory, chemistry, art, resourcefulness and expression and so much more.
Homemade Clay
for the clay you need:
1 sauce pan 2 cups cornstarch 1 cup salt 2 cups baking powder 2 cups water
Directions ( parent supervision required)
Add dry ingredients to the water and cook on medium to high heat, stirring constantly
The mixture will start turning clumpy, when this happens turn down heat; when about 80% of the mixture is dough-like looking take the pan off the heat and continue to stir until the leftover liquid joins the dough.
 Let cool complete ( child safety)  and your ready to start having fun creating unique sculptures with your kids.
You are now able to begin forming your creations.  Your clay formations will be like traditional bisk color ( white) so you can then paint them when they dry.  To paint your creations we recommend child friendly water colors.
Make Your Own Paint On  Liquid Sidewalk Chalk
Sidewalk Chalk Recipe
Materials Needed: Corn Starch Water Bowls for mixing (optional plastic cups for chalk color mixing) Food Coloring Paint Brushes for painting with your chalk
Directions
Mix 1/4 cup corn starch to 1/4 cup of water. Stir until well mixed. You may need to help your child mix the corn starch mixture as it is a little tough at first. We found that a firm metal fork works best for this step. Once mixed and as lump free as possible you can allocate your mix into separate containers ( like a disposable muffin tin or little plastic cups) than add and experiment with food coloring by adding a drop or two and mixing well.
Your liquid sidewalk chalk paints on the sidewalk via brush fingers or sponges but as soon as it dries it will turn into a chalky picture. The kids will love it! Double or triple the recipe and invite their friends to express themselves through art.
Make Your Own School Paste Glue
Glue
Materials Needed: Corn Starch Water Sauce Pan Container with lid for storage.
Directions
Math learning opportunity fractions percentages, how many parts in a whole.
Mix together 1 part corn starch to 3 parts water. Mix with a fork and stir constantly until smooth.
Transfer your mixture to the sauce pan and heat over medium heat. As soon as you fell it thickening turn down the heat to low and stir untill it looks smooth and resembles a vaseline like consistency.
Transfer to a sealable tub and wa la, home made school paste.
Homemade Finger Paints
for the clay you need:
3 table spoons of sugar 1/2 teaspoon of salt 1/2 cup corn starch 2 cups of water 1 sauce pan long handled spoon baby food jars or seal-able small glass jars
Directions ( parent supervision required)
Add the water to the sauce pan.
Mix the dry ingredients together. Slowly add the dry ingredient mixture to the pan of water and stir constantly
Place pan on the stove over warm until mixture thickens than transfer to your glass jars or what ever containers you will be using. Add in and play with food coloring to color your paints. ( hint primary colors are great because they can be combined to create other colors while painting)
We hope you enjoy this fun at home activity with your kids as we also love creating our own art supplies and taking the opportunity to help our students learn and grow through full engagement activities.
If your child loves art, crafting, drawing and painting we also offer a Enrichment art class for kids upto 6 years old at La Costa Valley Preschool and Kindergarten. All our enrichment classes are open to area residents and our student body alike and meet once a week.
To inquire about our Art Classes for Kids at La Costa Valley Preschool and Kindergarten simply  fill in our easy form below for more information .