Gettysburg Pre-K Address Learning Activity
Special Thank You to Ms. Miranda Cruz
Objective Of This Lesson:
For the children to understand about the job of a US President. What better way to learn than to take on that role and pretend to be a president themselves?  We also learned about independence, equality and being a good citizen, neighbor and friend.  At our school this activity is also tied into parent presentation that also includes supporting art projects and a tasty treat for our guests.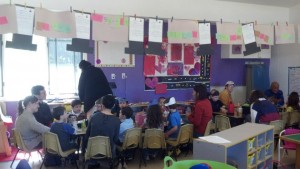 This can also be a fun at home activity where your children can discuss the topics below with them, help them fill in their "If I were president speech" and help them to create and recite their own 'independence declaration.
Below we have included templates for the props as well as their "declaration" that you can help them fill in than present "If I Were President"
President facts we talked about are:
The President takes care of :
The USA- our Country
Rules and laws for us all to follow
Makes important decisions
Shares important messages in speeches
Works with other countries for diplomatic and USA interests
Is commander and chief of our military
Ask the kids if they can think of what else the President does
I choose a historical speech from a past president that is well know by all. This speech is about equality and standing up for what is right– values we teach to our very young children.  In our early childhood teachings we teach universal values that will carry on in children throughout the community.
Values we talked about during this lesson: Equality
Fairness
Being good neighbors & friends
I knew all of the words in the speech would not be comprehended due to the cognitive development at a preschool level, so to make it a preschool appropriate speech I changed some of the words and sentences so the children would understand what they were being expected to memorize. I changed the plot of the speech to take place in a preschool classroom and refer to as though the children are speaking on how they are equal in the classroom.

I sent a message home to parents to let them know we would be talking about presidents and that we were going to change the Gettysburg Speech to make it Preschool appropriate for us to learn and recite. The parent note also included a invitation to come see their child become a president.  Each child's line was sent home on a attached slip for the parent to practice with the child at home.
Presidential Speech Theory – Learning independence
We gave two children each a line to memorize and say together, so that they wouldn't feel alone or to shy. We practiced all week and presented the speech to our parents.  We wore paper art beards and hats made for our speech.
The Children are not mirroring the Declaration of Independence – but we are using it as a basis to declare their own independence speech .
I just wanted to take the opportunity to state their independence because independence is such a key skill in Early Childhood development. (Self help skills is an area children are assessed on so it's always appreciated by parent when we can highlight their abilities and skills.)  So I decided to record the things they can do independently.
The Memorized Lines – Address Speech
Lines memorized- each child gets one line to memorize.  On the day of presentation to parents, loved ones and friends the children are dressed  art beards, president hats to set the mood. ( See Art projects below for instructions and templates)

Four Stars and Five years ago, our mothers and fathers brought forth a new child, making a great nation.
Conceived in Liberty, and dedication to the proposition that all children are created equal.
Now we are engaged in a learning war, a civil war.
Everywhere are equal. We can never forget what we did here today. It is for us the living to be dedicated here
** During presentation to parents we have the children hold hands at this point in the speech or you can have the children hook their arms together. So that all the children are linked together.
To unfinished work, Whom have fought here so nobly….
Let us have dedication to the cause for which they gave the last full measure of devotion.
That we resolve this nation, under preschool. Have a new birth of Freedom. And the classroom of the kids,
By the Kids,
**After the children are all done reciting their speech –  together they shout "By the Kids" while they raise their right fist straight up to the air
For the kids, shall not perish from the earth.
The Speech is complete . Have the children take a bow while the parents take pictures and clap

Art Activities That Go With and Enhance The Presentation
Art Activity 1 – Beard Making:
While constructing beards, you may want to ask the kids if they know any Presidents who had beards?  Share with them some of our Presidents who had beards
For the Beard Paper Art, We cut out a beard shape from construction paper.
Glue cotton balls onto the cut out beard.
Punch holes in the top at both ends. String a piece of yarn through one hole and tie the string ends together so it closes. Do the same to the other hole. You should have a loop at each end to hook on each ear.
Art Activity 2 –  Hat :
Cut out two of the same pattern, Lay them flat on each other and staple the ends together.
The hat can be painted with any type of paintbrush or sponge by the child.
Pull the middle on both side apart and place around child head.
Cooking Project Activity 3 – Refreshments for our guests:
We made cherry pies for our parents to honor George Washington. We shared this pie after our presentation.
Purchase 12 canned cherries ( 2 cans for each pie crust)
Purchase pie crusts already made in the pie tins. ( We made 6 pies for a class of 18 children and 22 parents)
Gather ingredients for the children to make the top pie crust
Recipe:
1 1/2 cups all-purpose flour
1/4 teaspoon fine salt
1 teaspoon granulated sugar
8 tablespoons cold unsalted butter (1 stick), cut into small pieces
4 to 5 tablespoons ice water
*Mix ingredients together and need into dough.
* Take small potions and have the children roll it out to cover each pie.
Bake in the oven for about 30 minutes or until golden brown at 350 degrees.
 * Let cool for serving. (To be prepared we made them the day before and refrigerated them for the next day.)
Art Activity 4 – If I were President Creating Their Own Declaration Of Independence & Frame:
Using Template Sheet:  Write down your child's answer for them on the sheet provided
If I were president…  My laws would be….
Ask children if they could be president and make up any rules they wanted what would the rules be?  Dictate the children's Responses.
Declaration of My Independence
(These will be written on the paper provided, glued to construction paper background and displayed in the classroom.
They are not mirroring the Declaration of Independence . In this activity I wanted to take the opportunity to state their independence because independence is such a key skill in Early Childhood development. (Self help skills is an area children are assessed on so it's always appreciated by parents when we can highlight their abilities and skills.) So I decided to record the things they can do independently.

Ask children what they can do on their own. Children at this age usually never have a hard time telling you how big and skilled they are. From getting dressed by themselves to learning to tying their shoes the possibilities are growing. Write down their responses for their parents to see while displayed in the classroom.
Templates For the Art Project
If I were President PDF Work Sheet
Click on the thumbnail to open full size image. You will need to right click to download  &/or hit print  page ( dependent on your computer)