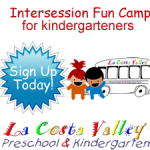 La Costa Valley Preschool and Kindergarten offers fun and educational fun camps for Kindergarteners on school break in the Encinitas, San Marcos and Carlsbad California School Districts.
Full and half day Intersession Fun Camps offer full and half day camps where your children will join our kindergarteners for:
hands on arts & crafts
computers
science &  music
movement
literature
physical education and more.
Kids  love our intersession fun camp because every day is a new and fun  experience, but they also like being able to learn and play with other kids their own age.
Parents feel confident knowing that their child is having fun and continuing to learn in a program that is specifically tailored to their age group at a nationally accredited school.
Call Us For More Information or To Register For Our Intersession Fun Camp at (760) 436-2797
Contact Us- Program Information
School Break Camp for Kindergartners in Encinitas, La Costa, Carlsbad, Solana Beach, Del Mar, Rancho Sante Fe, California at La Costa Valley Preschool & Kindergarten